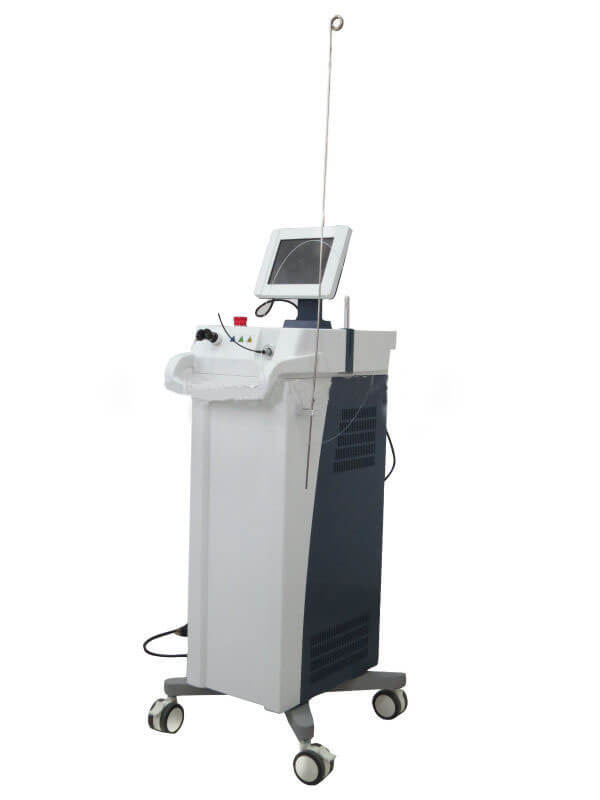 eatures:
Real Max  Power 120J/cm2.
600W laser gun with six bars inside(each bar is 100W).
Built-in sapphire cooling system ensure skin temperature to -3~6 centidegree.
Water flow sensor to protect water cooling system.
Deionization resin to reduce electrical conductivity and keep water purity. important for extend laser service life.
High quality Diode laser generator (warranty for 5,000,000 shots)
Large 20×12mm Sapphire size making hair removal highly efficiency..
Luxury design for high-end market.
Ergonomically designed hand piece for comfortable operation.
10.4 Color touch screen with easy to use software

Theory of operating:
The system uses special semiconductor laser with long Pulse-Width 808nm, can penetrate to hair follicle effectively. Using selective light absorption theory, laser can be preferentially absorbed by the melanin of the hair and then heating the hair shaft and hair follicle, moreover to destroy the hair follicle and oxygen organization around hair follicle. When laser outputs, system with special cooling technology, cool the skin and protect skin from being hurt and reach a very safe and comfortable treatment.
Applications: 
Permanently remove unwanted hair on all parts of the body and for any hair colors on all six skin types.
Specification :
Laser type: Diode laser 808
Laser wavelength: 808
Light source: 400ms continuous
Sapphire size: 20×12mm
Pulse width: 1~400ms
Repetition frequency: 1~10Hz
Energy Density: 1~120J/cm2
Power supply: AC220V±10%?50Hz; AC110V±10%?60Hz
Cooling System: High-power constant temperature water cooling + air cooling +sapphire contact cooling for laser head
Laser water temperature: 24C~26C
Power: 1650W
Fuse specification: Max10A
Dimension: 45×115×60(cm)
Weight:85kg
BA photos: