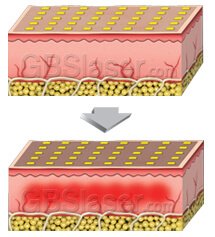 RF Cell Plus successfully combines latest revolutionary Fractional Micro-needle RF technologies with Fractional Thermal RF technology in one system to achieve the most optimal treatment result for both epidermis and dermis. Fractional Micro-needle RF with 25 electrodes provides direct heat through precise depth control from 0.5~3mm. RF energy delivered via gold-coated micro-needles creates precise and controllable fractionated coagulation zones within a speci?c layer of dermis. Adjustable depth control allows for customized and reproducible treatments of delicate areas. It effectively lowers the risk of PIH in dark skin types and can be safely used on patients with melasma and other types of pigmented lesions.
Application:
-Scar removal: Acne scar and scars caused by burn, surgery or laser treatment etc.
-Wrinkle reduction: stretch marks, wrinkles around lips, eye area, and neck;
-Skin rejuvenation: tighten large pores; improves the flexibility and tone of the skin.
-Acne removal: removes acne and acne scars.
-Skin tightening and lifting.
-Collagen regeneration.