iBeautyPen™ 2 Tips
 | Anti-black-flow design | No contamination | High quality needle | High hygiene| derma pen needle cartridge
iBeautyPen™ needle tips can be divided into two parts
1 pin, 3 pins, 5 pins, 7 pins, 9 pins for micropigmentation treatment;
12 pins, 36 pins and nano needle tips for microneedling treatment.
All iBeautypen 2 tips are compatible with iBeautyPen 2 microneedling device only.
Features
Superior Needle cartridge with 

anti-black-flow design

: preventing contamination
Perfectly spaced

 13 needle pins

: offers more evenly distributed microchannels

33 gauge needle:

 creating tiny microchannels with less pain and trauma.
Surgical grade stainless steel 316

EO Sterilization

 before packaing
Independent package
Accurate Adjustable needle length 

0 to 2.5mm

 offering the most optimal treatment
Technologies
Advanced diode laser technology

Collagen Induction Therapy (CIT)
Collagen Induction Therapy(CIT) or Percutaneous Collagen Induction(PCI) therapy is a regenerative method used to improve skin structure. Very fine needle lesions stimulate the skin to renew itself, without any significant damage to the epidermal tissues. As a consequence, needling greatly reduces the risk of complications and side effects compared to ablative and semi-ablative skin procedures. These fine incisions can extend over up to 50% of the skin surface without causing scars. The proviso is that the individual lesions are no bigger than 0.3mm in diameter. Clinical and scientific data underpin the efficacy of the method in the treatment of wrinkles and lines, stretch marks and various types of scars.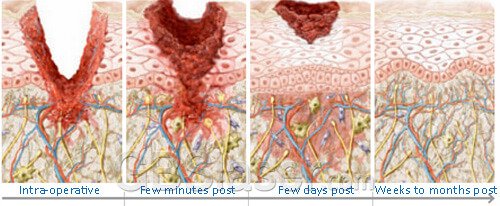 Micro needle Mesotherapy
The auto microneedling creates thousands of microchannels deep into the epidermal layer which greatly encourage the transepidermal transport of topical active substances. In practical terms, Needle lengths of 0.1–0.3mm are normally used in Cosmetic Needling for mesotherapy purpose. The needle puncture the superficial layers of the stratum corneum to improve the penetration of topically applied active substances. Since the needle-pricks remain in the epidermis, there is no intradermal bleeding and injuries.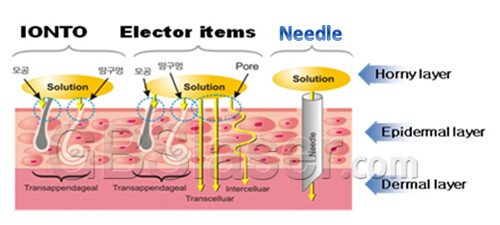 iBeautypen™ Advanced Vertical Needling (AVN™) technology uses micro-needles to pierce the skin vertically with an automatic vibrating function, allowing over 2600 fine micro-channels per second to be created in the skin.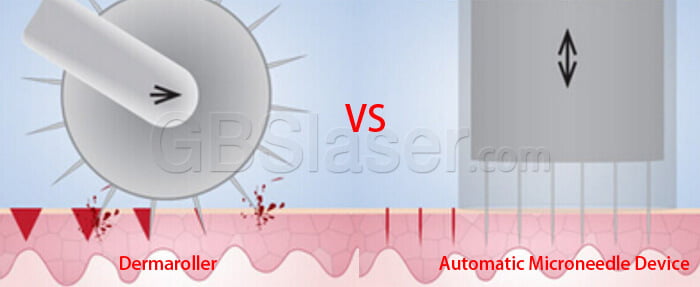 Compare
Advantages by Comparison
Compared with traditional derma rollers, it has the following advantages:
Much Less pain and trauma
10 times more efficiency
More suitable for 

small areas

 treatment such as noise, between eyebrows and eyes, and localized scars

Adjustable needle length and speed

 for more flexible and precision needling
Vertical movement for easy penetration preventing needle bent/broken
Cost-saving
Easy to operate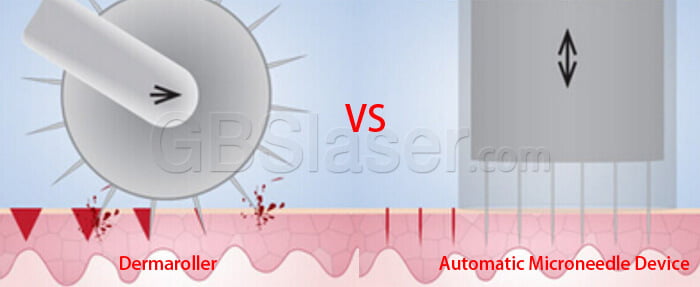 Each micro needle puncture creates microchannels that triggers the body to fill these microscopic wounds by producing new collagen and elastin. The quality of needle tip is one of the most important factor affecting treatment result and safety. There are many type of needle tip in the market. It's very hard to tell the difference for consumers. Please pay attention to the following points before buying.
In actual practice, the thinner the needle, the smaller the microchannel it creates. This enable less invasive, less painful and more microchannels for more efficiency treatment. However, if the needle is too thin, it may not  be strong enough for deep needling which may get bent or broken during needling especially for length over1.0 mm. In the market, most of the needle gauge ranges from 30 to 33. In our opinion. 30 (0.3mm) is a bit too thick. And 31(0.25mm) to 33(0.2mm) gauge should be ideal for professional microneedling. We use 33 needle gauge which is the thinnest in the market.
Example of bad quality needle tip:

Medical grade Stainless Steel 304 and Surgical grades of Stainless steel-316.
Stainless steel is one of the most commonly used materials in the manufacture of medical devices, in particular medical grade Stainless Steel 304 and surgical grade Stainless steel-316. Compared with SUS-304, SUS-316 has better characteristics especially for the hardness and sharpness.
Note: be aware some cheap needle tips use cheap steel materials. Such needles can easily get bent. And the hygiene standard is also unknown.
Needle Cartridge Anti-backflow Comparison with Dermapen needle cartridage

a. 0.25mm: Boosts application of products applied to skin; Anti-Aging.
b. 0.5mm: Reducing Face Wrinkles, Anti-Aging, Acne Scar Removal.
c. 1.0 mm-2.0mm: Treating Cellulite, Removing Stretch Marks, Treating Deep Wrinkles, Skin Pigmentation.
d. 2.0mm-2.5mm: Burn Scars, Surgery Scars, Treating Back Acne Scars, Deep Scars (Stomach, Thighs, Legs, Breasts), Hair Loss treatment.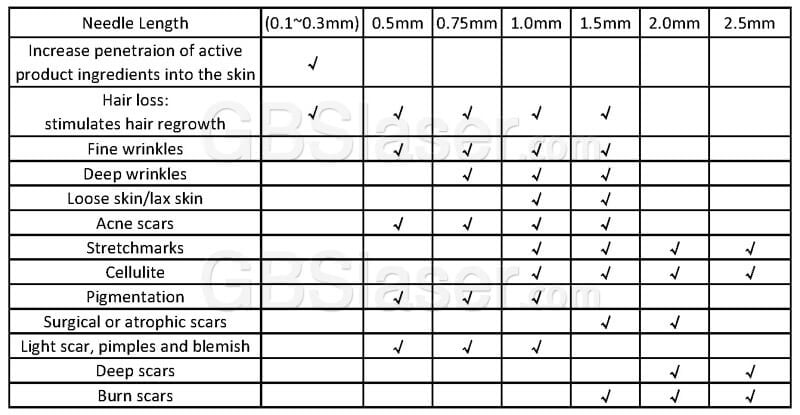 iBeautypen Operation Caution

| iBeautypen 2 | |
| --- | --- |
| ODM&OEM | Yes |
| Motor | Imported Germany Motor |
| Motor Movement Type | Integrated Reciprocating DC Motor |
| Fixed Speed (Battery Mode) | 8500RPM |
| High Speed(Adjustable Mode) | 12,000RPM |
| Low Speed(Adjustable Mode) | 3,000RPM |
| Needle Length | 0-2.5mm Adjustable(Step: 0.1mm) |
| Needle Number | 1pin, 3pins, 5pins, 7pins, 9pins for micropigmentation; 12pins, 36pins, nano tips for microneedling |
| Needle Material | Surgical Grade Stainless Steel 316 |
| Needle Gauge | 33 |
| Needle Shape | Round(sewing needle type) |
| Needle Design | Anti-back-flow Design |
| Needle Sterilization | EO Sterilization |
| System | |
| Material | High Quality Aluminium Alloy |
| Voltage | AC 100~240V 50/60Hz |
| Battery | 1000mA Lithium |
| Charging Time | 2 Hours |
| Package | Aluminum Travel Box |
| Package Size | 27*20*10 |
| Gross Weight | 1.5Kg |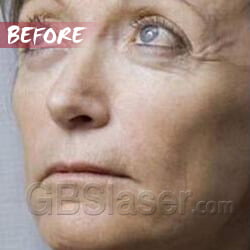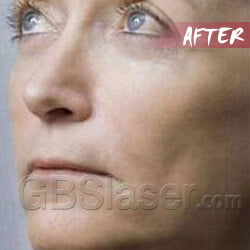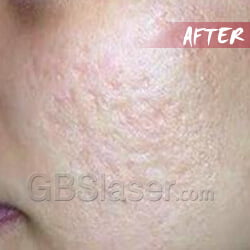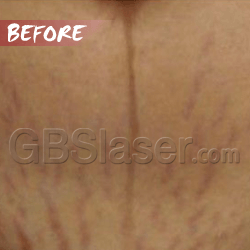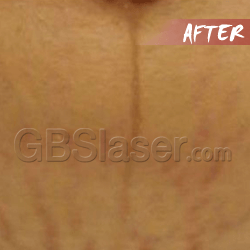 I cannot tell you how much I love iBeautyPen. The iBeautyPen is great! The redness went away in a few days and I was pleased with the results, as there appears to be improvement in the lines around my eyes.

This product solves all the downsides of needle rollers, pain, bleeding, difficulty in small areas, and client acceptance of the procedure. Clinical results are also superior. Simply a much better mousetrap and a much more professional approach.

Dr. Jane Marshall from Canada

iBeautyPen which is a far more comfortable way of doing needling for Collagen Induction Therapy. As a registered nurse and aesthetician I am always looking for the latest and greatest in skin treatments to offer my clients the best results. When I found iBeautyPen I was so excited! After doing research on micro needling it was a no brainer that the iBeautyPen was a superior product that would offer the best results and I had to have it.

Shawn Spons Skin Therapies@Real Balance Day Spa – Mallory, M